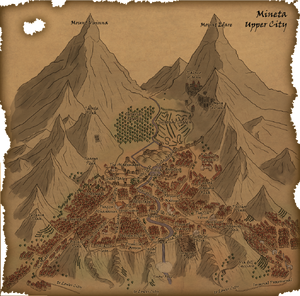 Academagia: The Making of Mages
is a whimsical fantasy life simulation and role-playing game set at the renowned Academy of Magic in the rich and dangerous city of Mineta.
As a newly arrived teenager in a strange, vast school, you'll embark on adventures great and small, train your familiar, make friends (and enemies!), and master the shining arts and subtle laws of spell-casting.
This Wiki is the place to learn all about the game and share what you have learned with others. If you wish to add to the Wiki, please read the Wiki manual first.
Official Forum @ Black Chicken Studios
---
Release Date: 08-13-2010
Current Game Version: DLC 17 (20-04-2017) this version needs to be downloaded via BTM or Steam depending on where you bought the game
For additions per DLC see DLCs and their additions
Academagia year 1 was released on Steam with a reworked UI and the probably last DLC (17) on 20-04-2017!
The last content pack released is Summer's Blush.
BCS is working on a sequel (Year 2) but there is current no official release date for it. (The previous target date was 2017)